Are you a licensed therapist?
Attend your next Continuing Education training with SMILE!
SMILE is proud to offer CE workshop trainings to all licensed therapists. We're committed to guiding you with the best knowledge as you continue your education in this dynamic industry.

You can attend a live webinar or purchase in person professional development. We offer affordable prices and high quality trainings that you can access at your fingertips – on demand!
Kindly view the flyers below for more details. Click on the one that suits you best and register today!
Check out our upcoming training below!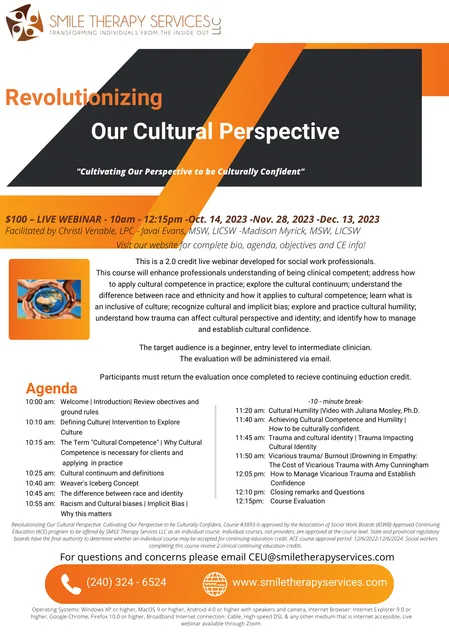 CLICK HERE FOR MORE COURSE INFORMATION AND TO REGISTER!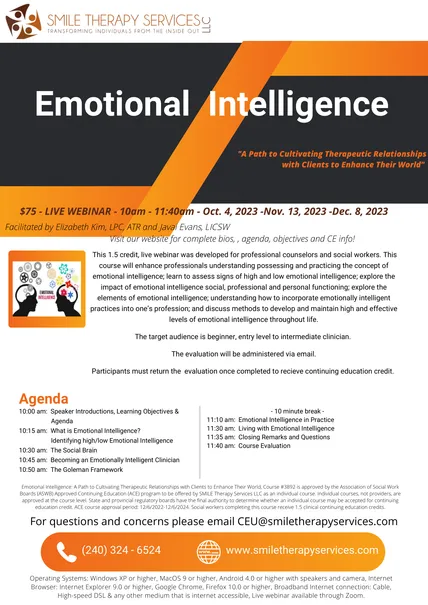 CLICK HERE FOR MORE COURSE INFORMATION AND TO REGISTER!

Grievance Policy
CEU Trainings
Any dispute between you and SMILE Therapy Services, LLC, may be resolved using these grievance procedures.

A grievance is a complaint initiated by a trainee concerning any matter related to the trainee's involvement with SMILE Therapy Services, LLC. All grievances must be submitted in writing. Using the form provided by SMILE Therapy Services, LLC, you must state clearly and concisely all the known facts related to your grievance, including "who, what, where, when and the why." Clearly explain why you disagree with act or omission that forms the basis for the grievance. Also explain what remedy you are requesting. You must sign and date the grievance.
Preliminary Step
You must first address your grievance with the immediate trainer. This may be done orally in an informal discussion. Please email your trainer and let him/her know the nature of your grievance. If your informal attempts to resolve the matter are not successful, you may implement the formal grievance process.
Step 1
You must first submit your grievance in writing to your immediate trainer. Grievances must be submitted within ten (10) calendar days following the date of your CEU Training. If you do not submit the grievance within the ten (10) day period, you waive your right to assert it.
Your trainer will respond in writing within ten (10) days following receipt of your grievance. All grievances and replies in Step 1 must be in writing. If the grievance is not settled in Step 1, then you may proceed to Step 2.
Step 2
Within ten (10) days following your receipt of the written answer to your Step 1 grievance from your trainer, you may appeal the disposition of your grievance by your trainer to The Clinical Supervisor, Javai Evans, LICSW at [email protected]. The Clinical Supervisor will then undertake an investigation of your grievance and the underlying facts. Within 15 business days following receipt of your grievance the Clinical Supervisor will meet with you in person to discuss your grievance. The Clinical Director will then provide a written response to your grievance within 15 business days following the date of your meeting.
Step 3
If you are not satisfied with the response of the Clinical Director at Step 2, you may submit your grievance to the CEO's Executive Assistant, Lashonda Marshall at lmarshall@smiletherapyservices. com for review within five (5) days following receipt of the written response from the Clinical Director. The CEO's Executive Assistant will review the grievance and provide a written response within fifteen (15) business days following receipt of the Step 3 grievance.
The grievant bears the burden of proof as to the validity of the grievance.
Refund Policy
Once purchased, webinars and workshops are nonrefundable. If your refund request is due to a scheduling conflict, contact [email protected] for assistance with a link to the recording.
Content Concerns
If you have a question or concern about the training facilitator or content of your specific course please reach out to the clinical director immediately.
Certificates
Certificates will be issued within ten (10) days of course completion. If for any reason you do not receive your completion CEU certificate please contact the Clinical Supervisor Javai Evans, LICSW at [email protected].
SMILE Therapy Services is an award-winning mental health and wellness agency focused on helping leaders cultivate a healthy workplace culture that increases employee retention, productivity and happiness.
Interested in joining the SMILE team?


Other Questions?
Email us today
Stay Connected. Join Our Newsletter.